Description
Superior Italian design will change the way you polish paintwork forever.
The RUPES Mark III BigFoot Random Orbital Polisher sets the stage for 21st century detailing. RUPES, an Italian company that has been manufacturing precision tools since 1947, has developed the most high-tech polishers the world has ever seen. Over several years of research and development, BigFoot has redefined paint correction for the enthusiast and professional detailer. The innovative system allows for the smoothest and most efficient polishing experience. The RUPES Mark III Bigfoot Random Orbital Polisher uses superior Italian craftsmanship to create a tool that is built to last.
The RUPES LHR 15III BigFoot Mark III Random Orbital Polisher has the same innovative design as the LHR 21III, yet the 15mm orbit combined with the 125mm backing pad allows the machine to fit into tighter spaces, making it perfect for working in contoured areas and narrow surfaces.
The 15mm orbit coupled with the higher R.P.M. level than that of the LHR 21III gives this polisher the equivalent cutting power to the LHR 21III. Its 130/150mm BigFoot polishing foam pads, perfect balance and vibration-free operation make the LHR 15III a versatile favourite of detailers everywhere.
The polisher ensures a perfect finish with its random orbital motion and large throw. One of the biggest advantages of the LHR 15III is that no swirls or holograms are instilled into the paint as you polish – all without the risk of burning through the paint. The RUPES LHR 15III is so easy to use that even a novice can have the polisher mastered after only one panel!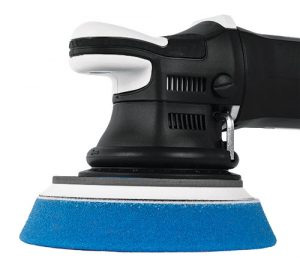 Improved Design Ergonomics
Attention to detail is something more than just attractive design. Subtle design refinements like the rubberized front grip which replaces the plastic, carbon-fibre like finish of the Mark II, offers exceptional comfort for the operator while providing a non-slip surface for control. The improved rear handle also integrates rubberized surfaces for improved feel. Two strategically placed top-mounted, non-marking rubber tool rests provide stability when the tool is on it's back and not in use,  as well as additional protection against unintended impact.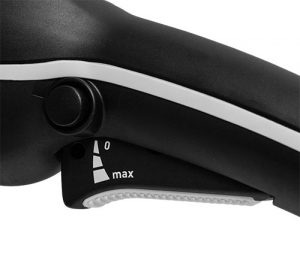 New Progressive Trigger
Adding an additional layer of control is the new progressive trigger. Acting as a throttle to control speeds within the dial range, the progressive trigger allows the operator to make subtle adjustments for precise control without interruption of the process or need to reposition the grip to access the speed dial.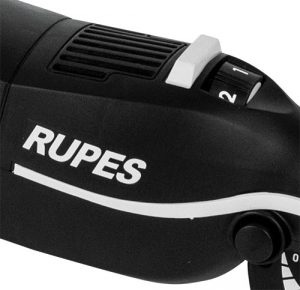 Larger Electronic Speed Control Dial
The RUPES LHR15 Mark III Bigfoot Random Orbital Polisher features a new electronic speed control dial that is alot bigger, allowing operators to select the ideal speed for the task using your thumb, without any interruption to the polishing process. High visibility numbers and a more positive feedback from the movement of the dial make speed changes feel more deliberate.